Go along for the ride!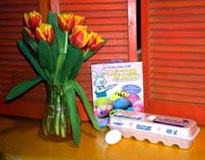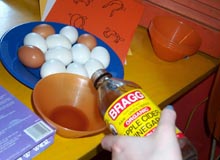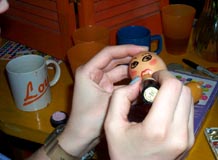 Now you've got an excellent excuse for not throwing out all that old make-up that you never actually wear - except on Halloween. Expand your craft box and create painted ladies ready for a night out on the town.
All you need are:
• A dozen or more of some multi-ethnic eggs
• Your old make-up
• Some PAS coloring tablets and easy box directions
• Brushes or Q-Tips for your detailed mini make-overs
• Water based glue - or a good glue stick
• Fabric scraps, construction paper, and things that seemed useless until today

Permanent black Sharpies work wonders as eye-liner - (on them, not you) but make sure the eggs are totally dry first. Dyed ot not, cottonballs make great wigs. These chicks can go from goth to super sassy. Who cares what the neighbors think? Hold on to your carton for later transformation into the convertible limo of your dreams. Even though our driver looks suspect - we know he's a good egg!